From stunning rock carvings and temples to giant stone pillars, history lovers are in for a rare treat at Anuradhapura, the first capital of ancient Sri Lanka. Located 206 km from Colombo, Anuradhapura is a UNESCO World Heritage site and one of the world's major archaeological sites. Perfectly landscaped pleasure gardens, vast irrigation lakes and places of religious worship are a plenty here and Anuradhapura also features the spectacular Ruwanweli Seya dagoba and the sacred bo-tree Sri Maha Bodhi which is one of the oldest trees in the world. Other attractions include the Aukana Buddha Statue, Mihintale Rock, Abhayagiri Stupa and Monastery and the "Isurumuniya Lovers" rock carvings.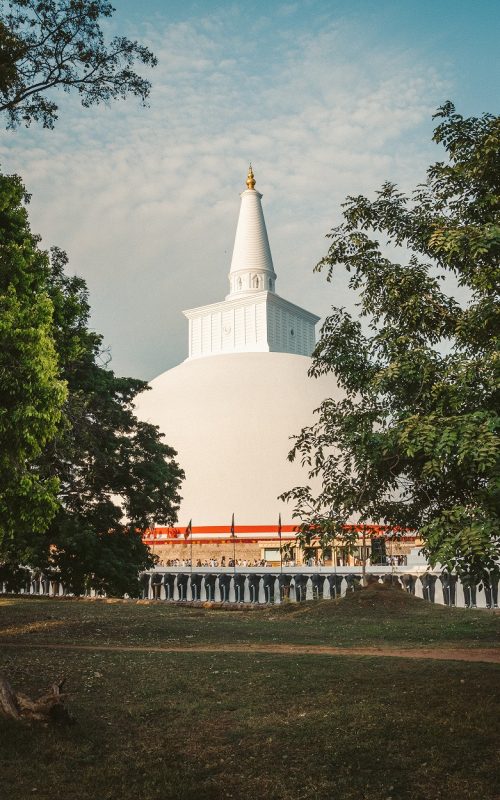 Avukana Buddha Statue
The Buddha statue in Avukana is a remarkable rock carving of a standing Buddha, also known as Avukana Pilimaya. This statue, situated about 175 km away from Colombo in Avukana, is a masterpiece of the artistry and artistic abilities of man.Avukana was built during the reign of King Dhatusena in the 5th Century. Standing over 40 feet high, Avukana is the tallest of the ancient Buddha statues in the country.
Ruwanwelisaya Stupa
Ruwanwelisaya Stupa is one of Sri Lanka's largest stupas built by King Dutugemunu a long time ago, is nestled right in the heart of the heritage city of Anuradhapura. This adorned structure is over 338 feet tall and has large paved courts as well as platforms that all add a unique architectural touch to this magnificent structure.
Mihintale
Mihintale is only 12 kM away from the famous Anuradhapura city. The sacred forest mountain Missaka Pabbatha where King Devanampiya Tissa met Arhat Mahinda Thera and his companions is situated in Mihintale. Prior to that the Lord Gautama Buddha had visited this place on his Third visit which was called as Missaka Pabbatha then.
Sri Maha Bodhi
In both a spiritual and physical sense, the sacred bodhi tree is fundamental to Anuradhapura. It was cultivated from a cutting brought from Bodhgaya in India and is said to be the world's oldest historically authenticated tree, tended for over 2000 years by an uninterrupted succession of guardians.