Polonnaruwa is Sri Lanka's second oldest kingdom and features a plethora of ruins and places of religious worship. Ancient Sinhala architecture combined with the South Indian architectural characteristics is what sets Polonnaruwa apart from Anuradhapura. Some of the many interesting places to visit in Polonnaruwa include the Gal Viharaya (Stone temple), Lankathilake Buddhist shrine, the Tivanka Image House, the Nissanka Latha Mandapaya and of course the famous Moonstones – the unique rock carvings found at the entrances or at the bottom of stairways to temples, shrines, dagobas, and other important buildings.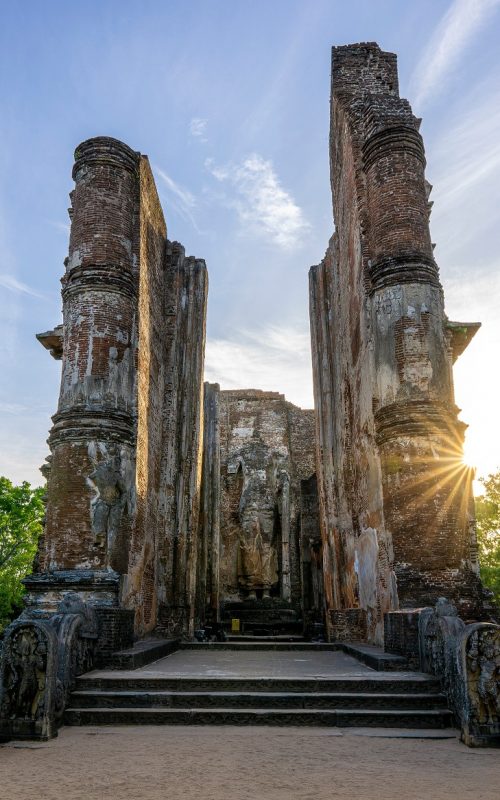 Royal Palace
The Royal Palace buildings dates from the time (1153-1186) of King Parakramabahu I. The Royal Palace of the King is a huge building measuring 31 m by 13 m, with 50 rooms backed by 30 columns.Even today it is quite an impressive building, but picture it being seven floors tall with 3 m thick walls, as the archaeologists claim it once was.
Buddha statue at Lankatilaka
Lankatilaka Vihara is one of the most emblematic structures of the ancient kingdom of Polonnaruwa. Two great walls, each with a thickness of 4m & height of 17m form a narrow aisle leading to a very impressive, though now sadly headless Buddha statue still standing, over 14m high.
Gal Viharaya
This is a collection of beautiful statues of Buddha that probably represent the high point of Sinhalese rock carving. They are part of Parakramabahu I's northern monastery. The Gal Vihara is made up of four different statues, all of which are cut from one long granite slab. At one time, each was enshrined within a separate enclosure.
Rankot Vihara
Rankot Vihara is a giant dagaba in excellent condition, about 54 meters high! In Polonnaruwa, it is the largest dagaba, Sri Lanka's fourth largest and dates back to King Nissanka Malla (1187-1196).