Located between the central highlands and western southern planes, the district of Kegalle has an enchanting setting. The height of the western region is less than 500 feet from the level of the sea, while it is more than 1000 feet in the eastern region. The cultivation of rubber has spread over most of the District area and minor export crops such as coffee, cocoa, pepper, clove and nutmeg have an important place in the District's economy. The best graphite mine in Sri Lanka is located in Bogala in the Kegalle District.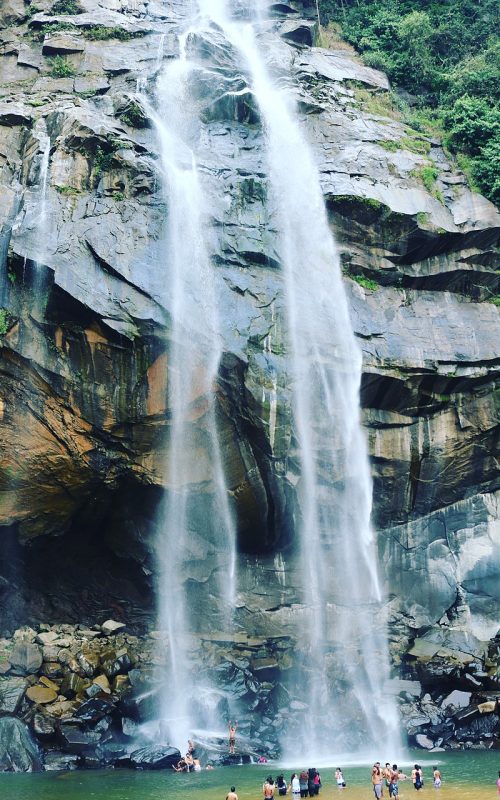 Pinnawala Elephant Orphanage
Pinnawala Elephant Orphanage; as the name implies, ex-situ animal treatment has an unique disposition. Not only within the region, but throughout the world, its popularity and fame have traveled to an extent where Pinnawala is associated with the Sri Lankan Elephant. Currently home to 93 elephants, the late Hon. Minister Kalugalle acctualized the concept on 16 February 1975.
Ambuluwawa
Ambuluwawa is a biodiversity complex and the first multi-religious sanctuary in Sri Lanka, found in the country's central highlands. The most spectacular views that can often be obscured by the continuing mist can be viewed by hitting the peak of Ambuluwawa.
Kitulgala
With five rapids rated 2 and 3, Kitulgala White Water Rafting takes about a 90 minute run each for 6.5 km. The Rapids are appropriately named: Head Chopper, Virgin's Breast, Butter Crunch, Killer Fall and the Rib Cage, with their own distinctive characters.
Nelligala International Buddhist Center
This temple is well-known and both Buddhists and non-Buddhists frequent it. The natural atmosphere is mind-calming. You can undoubtedly get the vibe of entering a palace when you visit the place. The temple is well preserved and its construction design has a higher architectural value.