The hill capital of Kandy, the last stronghold of Sinhala kings against the British Empire, lies picturesquely surrounded by mountains and rivers just 72 km away from Colombo. Kandy features the most sacred of all Buddhist shrines – the temple of the tooth or The Dalada Maligawa, which holds the Sacred Tooth Relic of the Buddha. The temple is surrounded by the charming Bogambara Lake, adding tranquility into the hearts and souls of the thousands of devotees that flock the city of Kandy each day. This is also the location in which the annual Esala Perahera, one of the most sought after events in the country takes place. Other popular attractions in and around Kandy include the Royal Botanical Gardens, the picturesque Victoria Golf Course and the Elephant Orphanage in Pinnawela.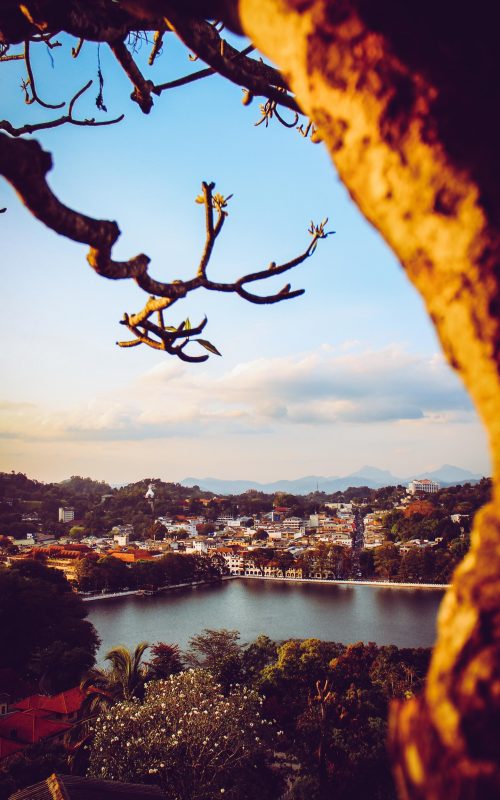 Temple of the Sacred Tooth Relic
The sacred temple of tooth relic is a world renowned place of worship where the left canine tooth of the Lord Buddha is placed. The holy place, which is venerated by local and foreign devotees everyday, was named as a world heritage in 1988 by UNESCO.
Udawattakele Sanctuary
Udawattakele Forest Reserve, often spelled as Udawatta Kele, is a historic forest reserve on a hill-ridge in the city of Kandy. During the days of the Kandyan kingdom, Udawattakele was known as "Uda Wasala Watta" in Sinhalese meaning "the garden above the royal palace".
Peradeniya Royal Botanical Garden
Peradeniya royal botanical gardens, the finest of its kind in Asia, the largest of the botanical gardens of Sri Lanka, couldn't be better located in the mediterranean climate of Kandy, The getaway to the central highlands. 
Bahirawakanda Temple
On the hill just 2 km from the Temple of the Tooth Relic is the Bahirawakanda Vihara Buddha Statue. The white Buddha statue was beautifully sculpted in 1972. It stands at 88 feet and is regarded as one of Sri Lanka's most important Buddha statues. In Bahirawa Kanda hill, there is the Buddhist temple next to the Buddha statue. The hill offers an overview of the city of Kandy, including the nearby mountains and the jail Bogambara